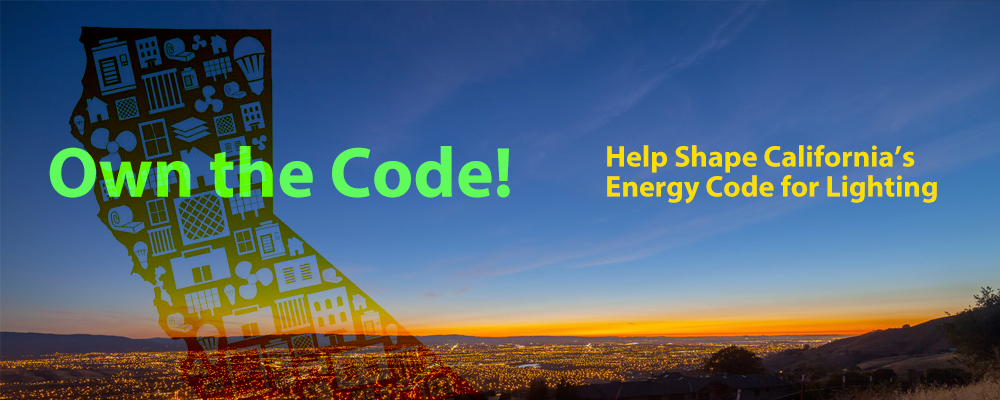 How to get involved
In order to ensure that California energy codes for lighting are balanced, practical, and effective, the California Energy Commission needs your input as a lighting industry stakeholder. If you make, sell, specify, install, or maintain lighting products in California, you are a stakeholder in the process of crafting energy codes that govern lighting. IES San Francisco Section, in partnership with a range of other organizations, will keep you up to date on opportunities to comment on measures for the upcoming 2022 code cycle, which is now underway. Check back here frequently for updates and information.
Upcoming Workshops/Webinars
September 5th 8:30 am - 12:30 pm Outdoor lighting and non-residential daylighting measures will be discussed. Register for this webinar HERE
September 12th8:30 am – 12:30 pm, Indoor lighting measures will be discussed. Register for this webinar HERE
Descriptions of the measures being discussed are explained HERE
Useful Links
California Energy Commission (CEC) website
The CEC is California's primary energy policy and planning agency, and is in charge of creating and implementing policy and regulations for building and appliance energy efficiency, both of which affect lighting and lighting products.
CEC Events Calendar
This is the calendar for CEC's public hearings and webinars where you can find information on measures being considered and comment.
Title24stakeholders.com
This is an organization separate from the CEC and sponsored by a consortium of California utilities who sponsor the Codes and Standards Enhancement (CASE) initiative. CASE presents recommendations to support the California Energy Commission's efforts to update the California Energy Code (Title 24, Part 6) to include new requirements or to upgrade existing requirements for various technologies. Sign up here for further notifications of stakeholder meetings and workshops.
California Energy Alliance
The California Energy Alliance (CEA) unites representatives of a broad range of organizations concerned about energy and the built environment. As a member-based organization, CEA works to improve California's energy future and the migration toward a Zero Net Energy horizon. CEA focuses on the promotion and realization of deep energy savings, sustainable energy generation, and integration. The Alliance actively participates in the development and implementation of pragmatic, environmentally and economically sound building energy standards and other initiatives.
Own the Code Event Resources
On June 11, 2019, IES San Francisco Section held a joint workshop with the Bay Area lighting community and stakeholder representatives. Documents from that workshop are available below.
Own the Code Session Report and Commentary, by Clifton Stanley Lemon
Presentation: James Benya, Benya Burnette Consultancy
Presentation : John Martin, California Energy Alliance
Presentation: Susan Larson, CEO, 90 Plus Lighting
Presentation: Kelly Cunningham, Senior Customer Care Representative, Codes & Standards, PG&E
Presentation : David Wilds Patton, David Wilds Patton Lighting Design